How Do Breast Implant Options Affect Cost?
Posted May 01, 2019 in Breast Augmentation
If you are seriously considering breast implants, you have probably already started to consider the cost of your operation. Breast augmentation costs vary significantly depending on where you have your surgery, who performs it, and what kind of implants you choose. And while it would be great to be able to know the exact cost for your breast augmentation before your consultation, it is not that simple. Many factors affect the cost, none more so than implant choice.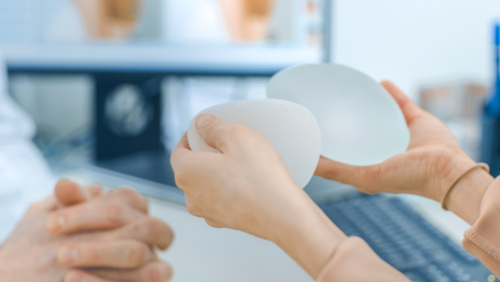 Your Implant Options
Breast implants come in saline and silicone. No matter where you go, saline will be cheaper than silicone because of the difference in filler materials. Saline implants are filled with a simple saltwater solution. Your surgeon fills the implant during the operation, so manufacturing costs are lower than if they were filled beforehand. Silicone implants, on the other hand, are filled with silicone gel and must be shaped by the manufacturer before they are shipped to your surgeon. The higher cost of materials and extra manufacturing costs make silicone implants the more expensive option. However, silicone implants can also be tailored in shape, texture, and profile to meet your aesthetic needs. On average, standard silicone implants cost around $1,000 more than their saline counterparts, and the more specialized your silicone implant is, such as specific shapes or textures, the more substantial the difference will be. While the variance in implant prices is significant, you need to consider what you really want before you jump at the cheaper choice. Saline implants are never a bad option; they are a safe way to enhance the size and shape of the breasts. Saline implants do, however, provide a firmer and slightly less natural look and feel. If you do not mind this, or if this is the aesthetic result you desire, then saline implants are for you. If you are interested in a more natural look and feel, the give of natural breast tissue, or if you want a shaped or textured implant, then you should choose a silicone implant and accept that the cost will increase.
Additional Cost Factors
While implant choice is the most significant variable, it is not the only factor to affect the cost of your breast augmentation. According to a survey by the American Society of Plastic Surgeons, the average cost of breast augmentation in 2018 was $3,824. In addition to implants, this includes anesthesia fees, hospital or surgical facility fees, medical tests, prescriptions, post-surgical garments, and surgeon's fees. These costs will vary from surgeon to surgeon and reflect their experience level and qualifications. While it is natural to shop around for the best deal, you need to ask yourself if that is a wise choice when it comes to your surgical procedure. When planning your breast augmentation, think more about whether or not you feel comfortable with your surgeon and their plan for your surgery, and less about the variances in cost. This is not to say that cost is not important, because it certainly is; you just need to be sure you are considering the big picture.
To learn more about breast augmentation, or to set up a consultation with Dr. Grazer, contact his office by calling (949) 644-1240 or by filling out his online contact form.