What Is Breast Implant Profile?
Posted April 28, 2020 in Breast Augmentation
3 Minute Read: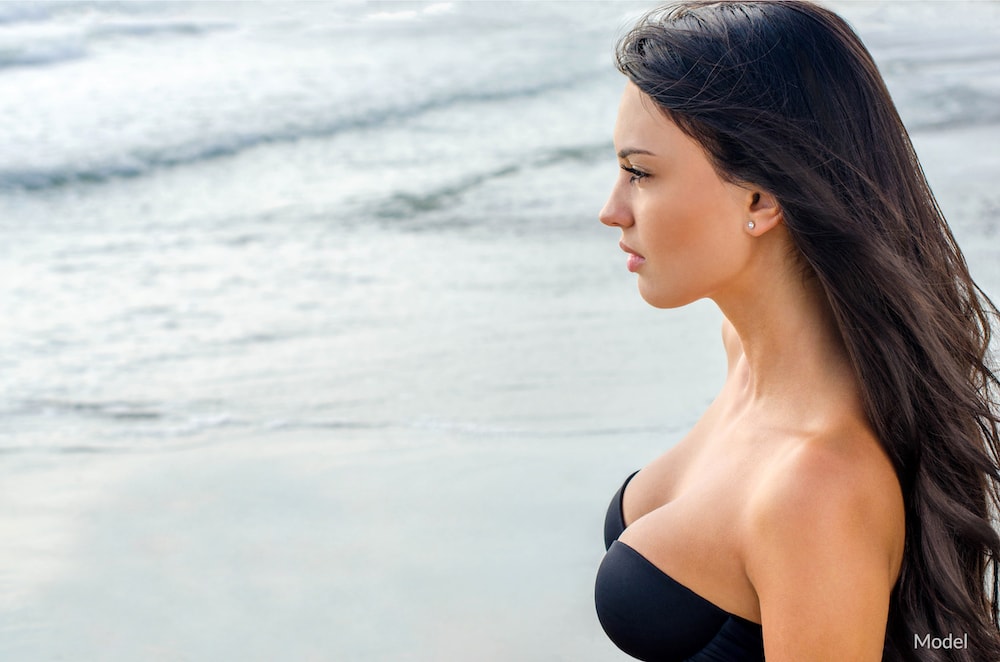 Many women are unaware of how many choices they will have to make when designing their breast augmentation.
From implant materials to incision placement, the choices made will impact the final look of your breast enhancement.
Another decision you will have to make when planning your breast augmentation surgery is implant profile.
What Is Breast Implant Profile?
Breast implants are sized in cubic centimeters (CCs).
The profile of an implant refers to the distance it projects outward from the chest wall. To get an idea of this, think about how your breasts look in the mirror when viewed from the sides. Implants of the same CCs can have completely different appearances depending on their profile.
Often, your body frame will help determine the right profile for you.
What Kind of Breast Implant Profiles Are There?
Breast implant profiles range from low to ultra-high, with several variations in between. The higher you go on this scale, the more the implant projects outwards.

Low-profile implants: These implants cover a large base but hardly project off of the chest. Low-profile implants are ideal for women with broader chest walls.
Moderate or moderate plus implants: These implants balance the implant diameter with the amount of projection. Moderate or moderate plus implants work well for most figures.
High or ultra-high implants: These implants have a smaller base but project the furthest from the chest. High-profile implants are designed for petite women with narrow chest walls and women looking for significant breast enhancement.
Women desiring a noticeable effect will often choose high or ultra-high profiles, as will women undergoing full breast reconstruction after mastectomy. Lower profiles spread the volume, providing more fullness towards the collarbone and sides of the breasts, while moderate or higher profiles focus on projecting the central and lower parts of the breasts.
What Breast Implant Profile Will Work Best for Me?
The most important aspect of designing your breast augmentation is choosing implants that are proportional to your frame. Higher profiles are great for women with narrow breasts or petite frames since they give the breasts a rounder shape. Lower profiles are desirable for women who want more fullness in the cleavage area or towards the edges of their breasts.
There is no formula for what profile will work best for an individual. At the end of the day, the right profile for you will depend on your final goals.
Interested in Learning More?
If you are interested in learning more about how breast implant profile can affect your breast augmentation, contact Dr. Grazer to schedule a consultation.
You can contact our office by calling (949) 644-1240 or by filling out our online contact form. Dr. Grazer performs breast enhancement surgery in Newport Beach, California.