Fat Transfer vs. Breast Implants | Pros and Cons
Posted December 23, 2019 in Breast Augmentation, Breast Lift
3 minute read
Wanting to enhance the breasts is the most common desire that plastic surgeons hear from their patients.
While many women assume that implants are the only way to achieve a fuller, more substantial bustline, they are only one of the options.
Fat transfer also increases the volume and shape of the breasts.
What Are Breast Implants?
Breast implants are pouches made of silicone gel or saline. This implant is inserted below the natural breast tissue or below the tissue and the pectoral muscles.
Implants are available with a wide variety of specifications. Size, shape, texture, and profile are all choices that women need to make about their breast implants.
These implants are then inserted through an incision made along the inframammary fold (the crease where the breasts meet the ribs), around the areola, or in the armpit.
What Is Fat Transfer to the Breasts?
Fat transfer is an alternative augmentation technique. This procedure is the two-step process of taking fat from one area of the body and transplanting it to another—in this case, to the breasts.
Fat grafting harvests unwanted fat from the abdomen, hips, thighs, or buttocks and separates the healthiest and hardiest fat cells. The remaining fat cells are then injected into various parts of the breast to create subtle fullness.
Is Fat Transfer an Alternative to Breast Implants?
While both breast augmentation with implants and breast augmentation with fat grafting allow for the increase in breast size and the enhancement of breast shape, one option may be better suited for your goals over the other.
Since implants are so heavily tailored to the patient, the results are more predictable and can create a more significant transformation.
Fat grafting may not be as easy to mold and sculpt as implants; however, it is an organic and entirely natural augmenting material.
With fat grafting, there is no possibility of implant complications or implant rejection.
The fat used is your fat, and through this process, you can sculpt the appearance of two separate body regions. The breasts will increase in size, and "trouble spots" will reduce.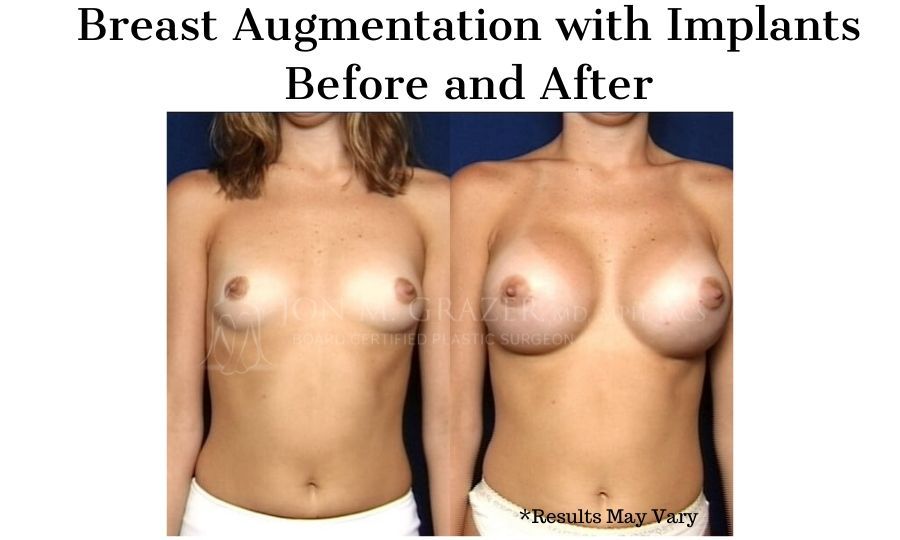 What Are the Negatives of These Techniques?
Just as both of these techniques have significant benefits, they also present some negatives.
Cons of Breast Implants
There has been some concern over the safety of implants. Implants are safe and reliable, but complications are possible.
Implant complications can include capsular contracture, implant rupture, or implant displacement.
Some textured implants have also been linked to breast implant-associated anaplastic large-cell lymphoma (a rare cancer of the lymphatic system that is found in the scar tissue around the implant), and breast implant illness (a non-medical diagnosis with side effects like joint pain, fatigue, and brain fog).
Cons of Fat Transfer Breast Augmentation
Breast augmentation with fat transfer cannot promise the same longevity of results.
The body may eventually absorb the fat transplanted to the breasts, and patients may require an additional procedure.
How Will the Appearance of These Techniques Differ?
Some women are a candidate for either breast augmentation technique, while others may only be suited for augmentation with implants.
Since implants are available in such a wide variety, there is an implant for every woman that will match her wishes for her breast aesthetics. Implants can achieve a subtle or substantial increase in size.
Fat grafting can only achieve a subtle increase.
Both of these options will provide natural-looking results. Because fat grafting uses your natural fat, the feel of the breasts will be slightly softer and more natural feeling than implants.
Find Out More
If you would like to find out more about breast augmentation in Newport Beach, CA, contact Dr. Grazer by calling (949) 644-1240 or by filling out our online contact form.